Sustainable swim • Welcome Peony to Alterior Motif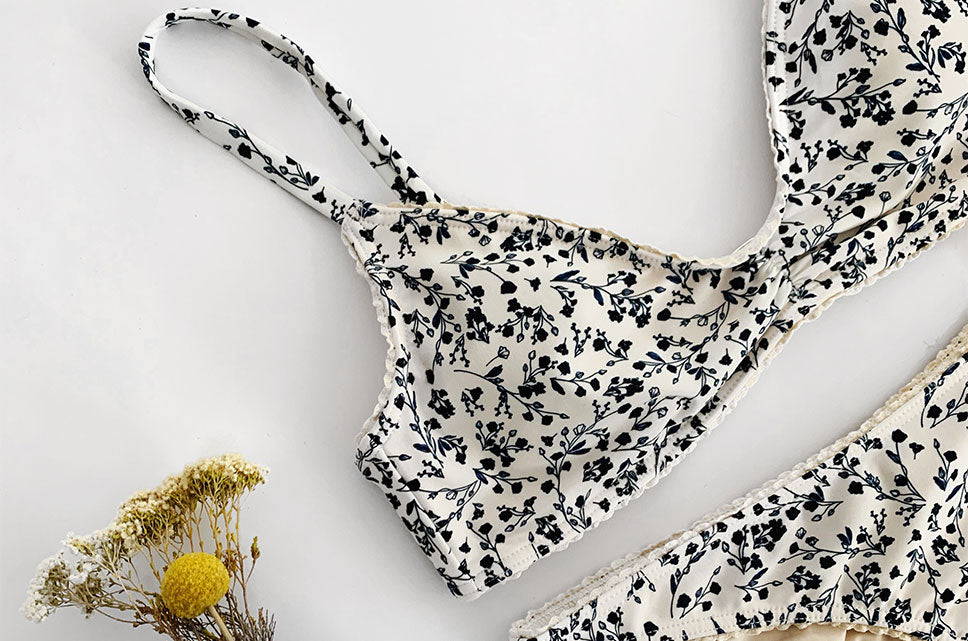 We are very excited to welcome Peony to Alterior Motif. The luxe swim brand is named after the bloom that signals the beginning of summer. Their collections are timeless and allow pieces to become treasured mementos of summers come and gone. We love Peony for their beautiful, high quality designs but also their commitment to sustainability.
In 2017, Peony began their journey towards sustainability and minimising their environmental impact. They see their sustainability journey as an open and honest conversation and have made significant steps towards more sustainable materials, manufacturing and packaging. See below for a detailed outline of Peony's amazing efforts in all aspects of their business.
Materials
Peony's printed fabrications are made from Econyl – a 100% regenerative nylon derived from abandoned fishing nets and nylon waste sourced globally from landfills and oceans. The lining of Peony swimwear has been developed in-house from recycled and sustainable materials. Peony are currently working on incorporating GRS certified recycled materials to create sustainable textured fabrications. 100% of Peony's fabrications meet Oeko Tex Standard 100 – the highest certifiable standard for ensuring responsible use of chemicals during the construction of fabrications.
Manufacturing
Minimising the negative impacts associated with manufacturing is at the forefront of Peony's manufacturing processes, including ensuring that all people involved are treated fairly and respectfully along the way. Peony are certified SA8000 approved – the leading social certification standard for factories and organisations worldwide. This means that their manufacturing practises are ethical and fair regarding a range of factors including child labour, forced or compulsory labour, health and safety, freedom of association, discrimination, disciplinary practices, working hours, remuneration and management systems.
Packaging
Compostable and biodegradable packaging is used within Peony's supply chain and retail processes resulting in thousands of single-use plastic bags being saved from entering the environment – reducing their consumption by 86%.
Wearing a piece of Peony swimwear makes you look and feel good knowing you are becoming part of the movement towards sustainability and subsequently helping to clean our oceans, clear landfill and reuse waste.
Peony's 'Lula' collection is now available in stores and online at Alterior Motif.