Staff Style Tips | Alterior Motif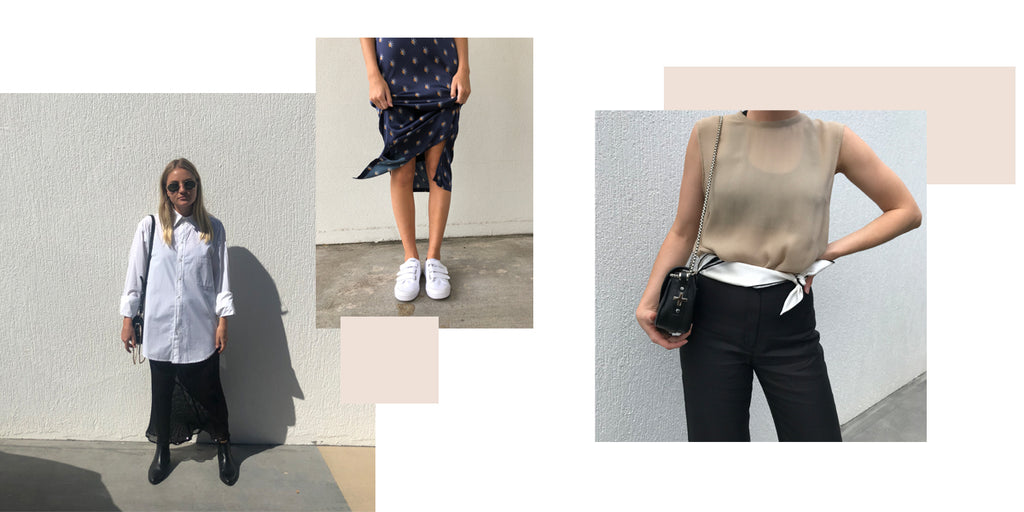 Catch up with the A.M. team and learn their styling tips for this season. See below for all the details.
Shop their looks in stores & online at Alterior Motif.
x
Penny
Our captain; Penny Lane loves to style her outfits by knotting her t-shirt with a pair of high or mid waisted pants or shorts. The perfect way to define your waist line without wearing something too tight or cropped!
April
We love the practicality of April's style tip! Don't limit your one-piece swimsuits to the water! April pairs hers back with her favourite night and day time attire to get the ultimate look and many uses for her poolside threads.
Angie
Get the most uses for your wardrobe basics with brightening them up with a colourful tee! Our Cotton Tree girl Angie spices up her blacks and whites with a glam tee.
Isobel
Isobel gets her extra styled look by using her silk scarf as a belt! Tie your scarf onto a plainer style bottoms to dress yourself up in the most fashionable and inventive way
Mads
Mads perfects any outfit with a pair of chunky earrings, making casual a statement with one easy accessory
Dana
Dana wears her oversized men's shirt with a pair of baggy shorts to create a casual yet sophisticated look. Crisp whites with comfortable shorts is the perfect way to go! Dana also likes to wear her men's shirts off the shoulder to give it more of a feminine touch.
Tess
Tess styles any pair of basic overalls with a pattern or printed tee to display casual ease. Comfortable, easy and stylish.
Jaime
Jaime gets the most use out of her active wear by pairing it back with high waisted tailored pants, or a pair of baggy overalls. Cool and comfortable day and nightwear attire
Georgia
Georgia takes a masculine yet feminine style direction. Pairing oversized tee's and structured shirts with a feminine bottom keeps her dainty yet chic. And don't forget a pair of chunky boots and her signature wax bag.
Charlee
Charlee likes to dress down her cocktail dresses with sneakers, to create an effortless cool, day time look.