SHOP LOCAL. SHOP SUSTAINABLE. // An interview with the women behind Worrn. Store, Clo Studios and Cloth & Hide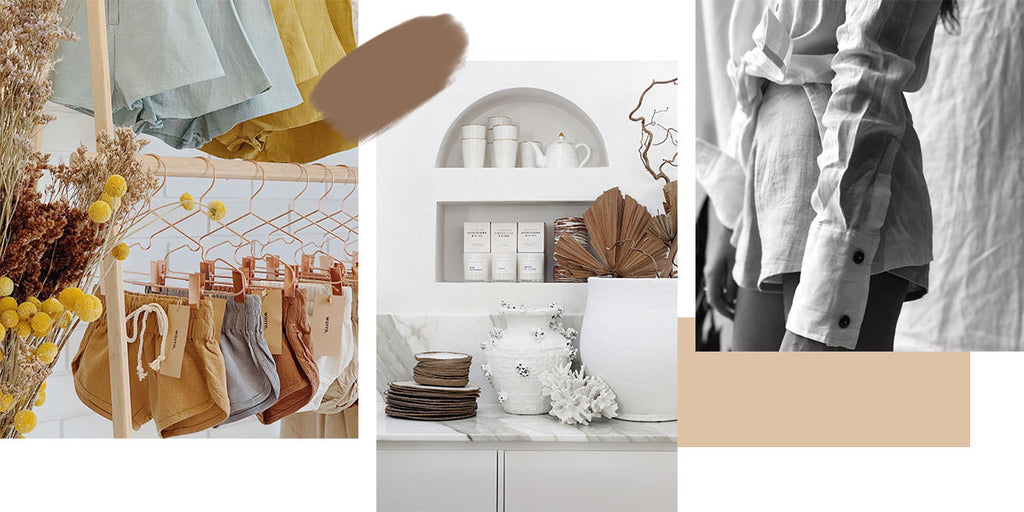 Here at Alterior Motif, we are big on supporting local business in our area and small business in general. We focus on stocking local brands and Australian brands that are making steps to reduce their carbon footprint. Shopping sustainably and mindfully is important to us and we believe shopping locally is a huge part of this. Not only are you supporting your local community and economy but also supporting the creatives around you which is so rewarding.
On the Sunshine Coast in Queensland we are lucky to be surrounded by an abundance of beautiful stores owned by locals and creatives. We got chatting with a few fellow Sunshine Coast store owners/boss ladies about owning and operating a store on the coast and the benefits of shopping locally. See their answers below.
Jordy-Lee Jones (JJ) of Worrn. Store
Luxe, designer kidswear made for the everyday with comfort and ethical production in high focus.
Chloe Tozer (CT) of Clo Studios
A sophisticated and eclectic curation of globally and locally sourced furniture, fine art and homewares.
Moon Lane (ML) of Cloth & Hide
Clothing label focusing on plant based textiles and classic, effortless designs made in small quantities.
Describe your store and shopping experience to someone who has never visited your store before.
JJ: My aim when opening the doors to Worrn was to create a relaxed and welcoming atmosphere for both mum, dad, bub and fur baby (all fur and non fur babies are welcome). Although our store is only small, we have a collection of beautifully crafted wooden toys for the minis to play with while mum and/or dad can shop in peace while sipping on a icy kombucha which we offer when walking in the doors! We have made the conscious decision to deck our store out in decor sourced from local small businesses and we have a music playlist from up and coming artists who have originated from the Sunny Coast. I'd definitely say Worrn. Store is all about feel good vibes and supporting other Sunny Coast people!  
CT: CLO Studios showroom awakens your senses with an eclectic mix of furniture and homewares. Mixing antique pieces with modern decor creates a unique look that reflects our worldly inspiration. We pride ourselves on sourcing unique products whilst supporting a range of local artists and brands. The showroom is set up like a home with a living area, bedroom set up and dreamy Moroccan inspired kitchen. My office is in the loft and we also have our beautiful design studio next door to the showroom for our design team. We have an organic vegie patch and garden that we share with Vanilla foods that we love to make the most of and also a vibrant laneway that gets used by the community. We love the relaxed feeling of our space and the location attracts great local clientele. 
ML: We like to think we are a welcoming light filled space with a focus on beautiful natural materials in soft neutral tones. As we stock predominantly our own house brand we have a real understanding of our product and we go over and above to help customers find the perfect piece.
Your go to local coffee spot while working?
JJ: Little Miss Aaine! Every day! Rain, hail or shine… Just ask them ha ha!
CT: We are so lucky to have a beautiful café joining our showroom, Vanilla Foods! Most amazing coffee & nourishing organic treats.
ML: Hand of Fatima has beautiful coffee and an amazing seasonal menu.
What inspired you to open a store on the Sunshine Coast?
JJ: My incredible customers! I wanted to have a place that they could come in and see our pieces in person and a place to meet and thank all the people who have supported my 3rd child - Wornn. 
CT: The store actually started as my jewellery studio. I studied fine art at university majoring in 'Jewellery & Small Objects'. I opened the store just over 3 years ago with my mum, Trudy who is an interior designer. I had my studio out the back and small retail out the front. We then grew and expanded for there. We now have 3 shop spaces in a row and a warehouse.
ML: Cloth & Hide is inspired by the easy, sun-kissed, outdoor lifestyle of the Sunshine Coast. It just made sense to open a store here.
What advice would you have given yourself before opening your store, knowing what you know now?
JJ: Make sure there's always a bottle of wine in the fridge at home because once you get home and realise you're out of wine, you won't feel like going back out to get one... Just kidding... Relax and don't stress yourself out over things that are out of your control. You've got this! 
CT: Definitely I have learnt a lot of lessons through experience, most of them good! The importance of keeping consistency through systems and procedures is a big one!
ML: Just keep doing what you do well as well as you can and don't worry too much about what others are doing. If you are doing what you genuinely love the right customers will find you.
Favourite Sunshine Coast beach?
JJ: Buddina/Kawana beach. My dog, kiddies and I are there every morning! It's so beautiful, although all Sunshine Coast beaches are.
CT: I can't go passed Marcus Beach! This is where my family home is, so I love going there on my days off with my dog, Darci.
ML: Little Cove at Noosa. I'm always blown away by how beautiful it is.
What reason would you give to people to choose to shop local?
JJ: There is literally no better feeling then shopping local. By shopping local, you are supporting another person from your community and supporting their dreams and their family. You can sense the gratitude from the shop owner and staff when shopping locally and is there really any better feeling than supporting the people around you? I personally don't think there is! 
CT: To support local business and people! Drive our community and keep the jobs here. It's so nice to see the rise of many young local creatives starting business here in the Noosa Junction and we will always support. 
ML: Apart from it's a more sustainable way to shop for the planet, you can find really unique, high quality products made with love.
Find out more about these lovely stores and shop here:
Worrn. Store - https://worrn.studio/
Clo Studios - https://clostudios.com.au/
Cloth & Hide -  https://clothandhide.com.au/