Q&A with jewellery designer Nada Dickman of Gold Sister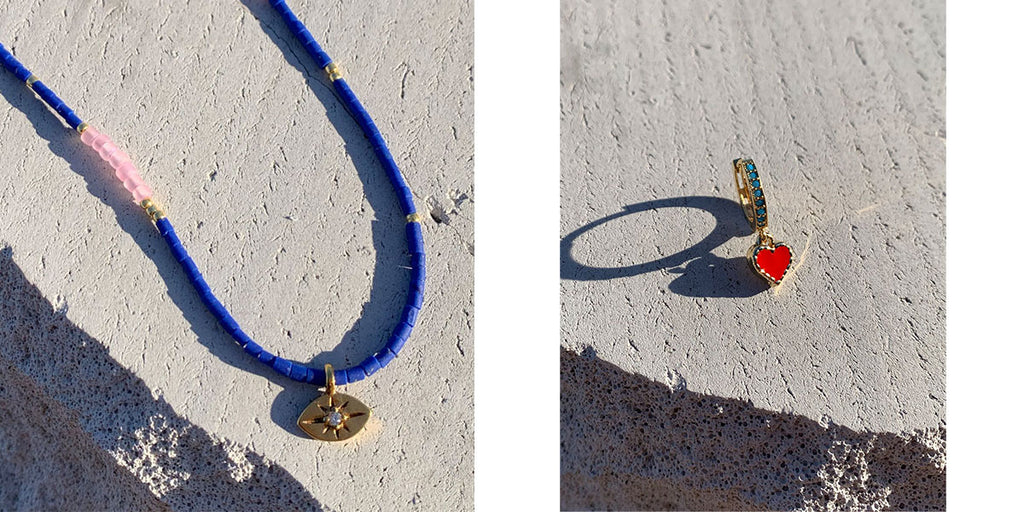 Gold Sister is an Australian jewellery brand inspired by the love of gold, semi-precious stones and crystals. Founded in Melbourne in 2018 by jewellery designed Nada Dickman, Gold Sister is unique in that their pieces are sold separately can be worn as pairs, mixed up, layered or by themselves.
We got the opportunity to speak with Nada to gain more insight into the brand and get know Nada and Gold Sister a little more! See her answers below.
Where did the idea to start Gold Sister come from?
I grew up in the 70's in an Alistair Knox house in Wonga Park Melbourne with a dad who looked a bit like Eric Clapton and who loved the Rolling Stones, Joni Mitchell and Van Morrison. My mother and sisters and I have always loved beautiful, petit, understated jewellery that can be a shiny jewel out in the glamorous night in your favourite dress, and just as easily worn back into the day, making mud bricks for the chook house and weeding the vegie patch.
What is your favourite Gold Sister style?
My retro influences always have a thoroughly modern consideration to them. I make beautiful things that are created out of what my daughters and I love to wear. If I had to say what my favourite piece was though, I'd say it would be 'Same Time Tomorrow'. I love the contrast of the red heart against the blue turquoise stones.
What is the reason behind selling individual earrings?
Well, it's the age of the individual! But I guess I noticed that my daughters loved this playful option, and the style of jewellery I make really suits it.  It's also really nice for people who have a few ear piercings; they are free to mix things up their way. Most of my earrings are petite pieces, and so it works to not match them. I guess it is an invitation to something a little more relaxed, playful, individual. And if people want them to match, no problems!
What is your sustainability policy?
I am a very sustainability-conscious individual who grew up in a semi self-sufficient way and I've been dogged about instilling it into my own children. So, I try to use minimal packaging, made from recyclable products where possible. I will always try to uses things more than once. Some of my items are made from recycled sterling silver. I have also joining 1% for the planet. This is an organisation that realises their responsibility to protect our planet, they give 1% of their sales back to the environment. So, GS has decided to do this too. Check them out www.onepercentfortheplanet.org
How should we care for our Gold Sister Jewellery?
I would love to say diving through some salty blue-green waves in the sun is one good way to clean and care for Gold Sister jewellery. But on a more practical note, GS is 925 Sterling Silver, some pieces are gold filled, vermeil gold or gold plated. This requires some care to keep it looking its best. Remove jewellery when sleeping, exercising, swimming, and showering. Avoid contact with perfume, & lotion. Never use a "jewellery" cleaner – it could compromise the plating. Lightly clean use a soft, lint-free cloth.
How is Gold Sister best worn?
Designs and creations that are unique as well as beautiful. GS earrings are heavenly when worn as pairs or mixed up for a fun and cool look. GS necklaces worn as minimal pieces or layered achieving gracefulness and an effortless feel. Alternatively, it can be worn in bed in your favourite silk nighty or with nothing at all, a la Marylin Monroe.
Shop Gold Sister in stores at Alterior Motif, or online here.