Lottie Hall x Alterior Motif | Exclusive Shells Literally Dress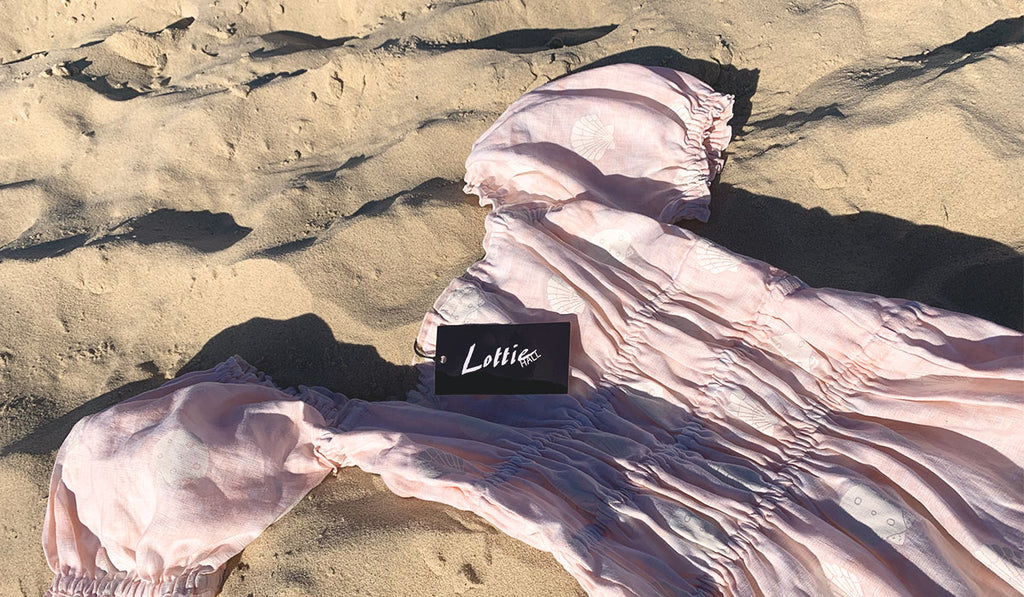 She's here! Lottie Hall's Shells Literally dress in a beautiful dusty rose die tye, exclusive to Alterior Motif!
We are very excited to introduce Lottie Hall's most popular dress in an exclusive tie dye colour, only available at Alterior Motif. The Shells Literally dress is an easy to wear linen dress in the signature shell polka dot print, hand drawn by Lottie Hall. It features elasticated triple waist gathered panels and the sleeves can be worn on or off the shoulder. Each piece is hand dyed so every dress is one of a kind!
We asked Lottie a few questions about the dress and her beautiful brand. See her answers below!
AM: What is the inspiration behind the Shells Literally dress?
LH: I think originally I wanted a romantic, effortless dress as I was loving the puff sleeve silhouette. I wanted a really simple yet unique detail (triple elasticated feature waistband) so it wasn't too fussy. It's comfortable but also makes you feel really good, confident and cool when worn. Of course with signature water inspiration in the prints. The dress has now been a staple to the brand for two years and continues selling strong. So I love that it's timeless too.
AM: Who designed the print?
LH: I design all the prints for the brand. I wanted something simpler for this style so I went with the LH version of polka dots... shells. 
AM: What are your two favourite ways to style the Shells Literally dress?
LH: The great thing about this dress is it literally needs no styling in my eye, put it on and your done with whatever shoes you want, slides/boots/heels/sneakers it will all work. For day I wear it with slides, f + h earrings and a Dylan Kain bag. Or trainers and a knit jumper at night to change it up for cooler months.
 
AM: What was your inspiration to start Lottie Hall?
LH: Originally I set out to make the brand a sort of Acne, Proenza Schouler high end surf vibe! I felt there was a gap in the market there, so there was always this nod to water and art as an inspiration but I did more leather peices, batik/tie dye, knitwear and even boots originally. I did my first printed dress, the "Lumeria Dress" in my intital season, suprisingly enjoyed the process of creating the print, and it became the style that garnered serious attention and really launched the brand internationally. So the prints ended up taking on a life of their own and really became a signature for the brand. So I say the brand is a print driven brand since the early days but it wasn't the original concept, it's happened organically through seasons and my design process.
Shop Lottie Hall online at Alteiror Motif here.