Isobel Badin | Q&A with artist & designer behind 'Flower Power' collection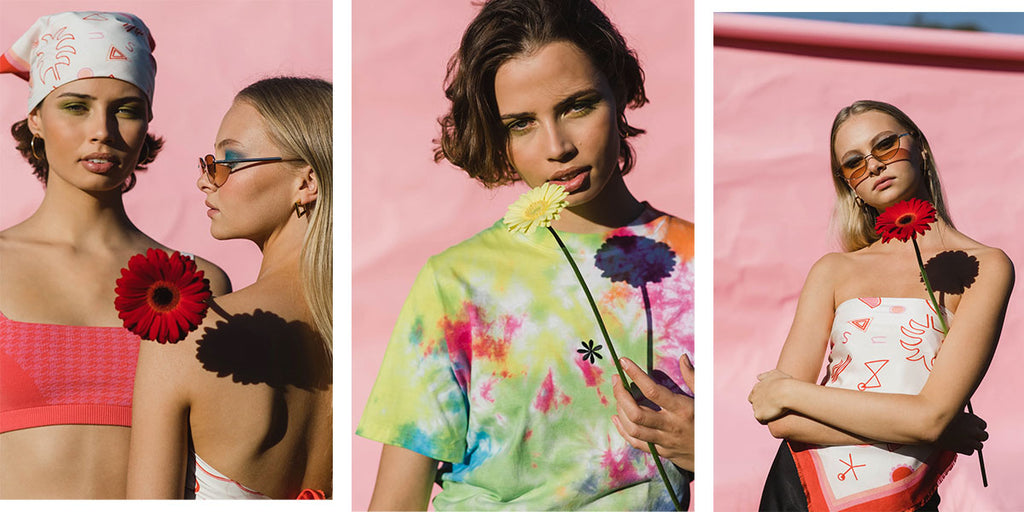 Introducing Isobel Badin's beautiful collection of tie dye tees, hand painted scarves and bucket hats. Made in Australia, Isobel Badin uses organic cotton and each shirt is hand dyed individually making every piece one of a kind. Their scarves are designed, printed and hand finished in Australia featuring original artwork hand painted by Isobel Badin. Isobel Badin's collection Flower Power celebrates the wild and the free. It's a patch of daisies, roses in the garden, or a field of sunflowers. It's long sunny walks, pink sunset skies and cloudy blue days. It's for the flower lovers...
We sat down with the arist and designer behind the brand, Isobel Badin to learn a little bit more about her beautiful 'Flower Power' range. Isobel is a local designer with a strong passion for sustainable and ethical production, her unique style and creativity is very much reflected through all of her designs and we are so happy to share these with you. See her answers below.
What is Isobel Badin's biggest inspiration?
FASHION ~ ART ~ FLOWERS basically sums it up. The brand is an organic expression of my love for these 3 areas of creativity and is the story I always hope to tell. I love to admire and create art, I love nature, I love flowers, I love working with flowers and I love the experience and art of dressing up, and my label is my encouragement to others to hopefully experience those same joys in one way or another. 
How are your T shirts dyed?
I personally hand dye all of the tees individually in my laundry and back yard. Each tee is individually prepared and dyed, using non toxic dyes, that are not harmful to the environment if used and disposed of correctly. The waste water from the dye breaks down into harmless molecules by microbes in the soil and waste water treatment plants, so ensuring the dyes end up down the sink is the priority and certainly not down drains that end up in our oceans. The dying process can range from simple to more complex, with some tees requiring up to 5 processes/layers of dying to achieve the desired outcome. 
What does sustainability mean to you?
Sustainability means many things to me when it comes to fashion. It means buying consciously, paying what the garment is actually worth ensuring everyone down the supply chain is correctly paid and cared for, considering where the garment is made and is your purchase a part of a destructive industry, or if it positively impacts the world. It means buying good quality items and wearing your garments as much and for as long as possible. It means re-purposing and re-imagining garments and materials. It also means taking responsibility for our consumption and waste, considering how we can reduce our amount of waste, and how we can best dispose of that waste. And finally, how are we considering the community around us, are we giving back or are we just taking? The thought of running a fashion label without giving back didn't seem right to me, therefore $2 from the sale of each item is donated to Street Swag, a charity that supports the homeless. Ultimately for me, sustainability means making the best choices we can for the greater good of our environment and community, and always looking for ways to improve in all of these areas, which isn't always easy but a challenge to try to embrace.
What was your inspiration behind your recent shoot?
I really wanted to connect with my roots in this shoot - I grew up on the land, on farms and in the bush and it's where I feel most at home - so I really wanted to reconnect with this. It was purely about that connection to nature, referencing the Australian landscape, but with a twist ensuring we created something fresh and contemporary, and of course with the incorporation of flowers. Telling that story that relates to the Australian lifestyle and landscape was essential. 
How is Isobel Badin best worn?
With passion.
What's next for Isobel Badin?
So so much. In the near future you can expect to see part 2 of FLOWER POWER, a capsule collection of tie-dye loungewear pieces including a long sleeve shirt, a boxy tee and 7/8th flared pants. It's super fun and vibrant, designed for weekends, holidays, beach days and of course ISO. I am currently developing an UP-CYCLE category to the brand which will consist of random capsule collections created from pre-loved garments and fabrics. We also have the most exciting summer range in preparation but we can't share too much just yet so stay tuned! And finally the development of an art series to hopefully be exhibited later this year. 
How did you create your design for your silk scarves?
The scarves are all created from IB original artworks - compiling a range of finely hand painted motifs and artworks, then translating them to digital format for printing. This is another area for me to include my own artistic elements to the brand, and each season a new edition will be released in a range of colours, all in limited numbers. We have some very fresh colours coming for summer which we are sooooooo excited about! 
Isobel Badin is now available in stores and online at Alterior Motif. You can shop online here.