how to: wear drop crotch pants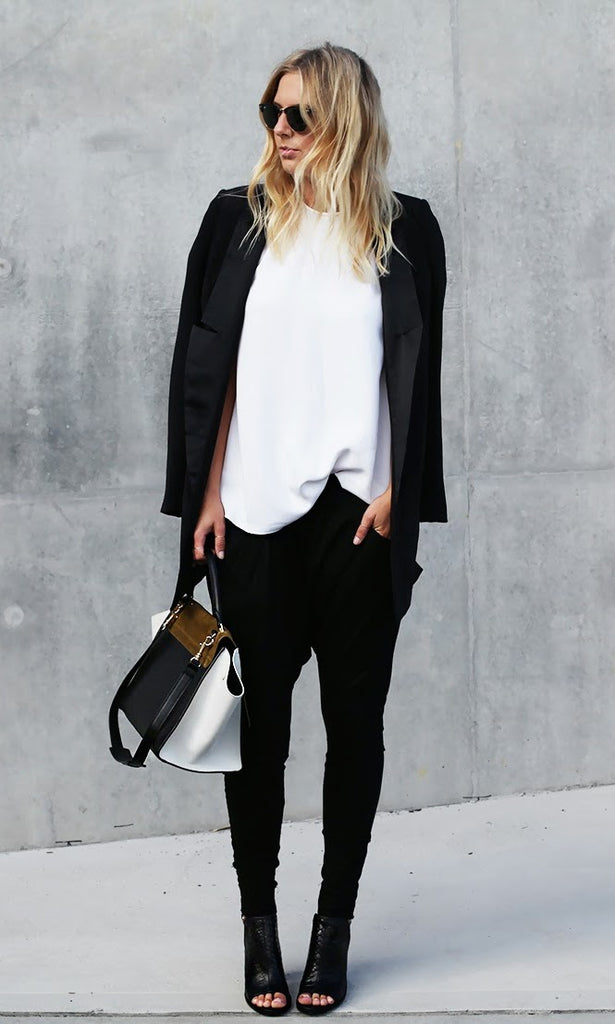 the drop crotch. it is definitely sticking around. done well, it says fashion forward, edgy, relaxed, did we mention comfy as hell?? I don't know about you - but I have tried these on a million times and not felt 'right' in them. so here is the low down on how to wear it like a fashion blogger:
show some skin. whether this is a bit of ankle, some toes peeping through - break up the pant with some skin at the bottom. if the drop crotch pants you are working aren't cropped, cuff them. Or pop them with a

 

strappy heel or peep toe bootie.
wear them with heels. if you are feeling too  'these are boderline pajamas' pop on a

 

heel. they don't have to be stilettos. just something to help lengthen your leg and dress these bad boys up.
play with layers up top. check out the pics above. common theme is loose and relaxed on top layered with a structured element. a jacket, bustier or even a structural necklace.
like any new trend you haven't tried before, pop them on and walk out of the house with confidence. guaranteed a quick compliment will come your way and you will work these till they die! 
ready to pick up a pair of your own? we recommend these from zulu and zephyr in a graphic print. pop them with you bassike tees in grey black and white for an unfussy entry point to the trend. feeling more adventurous? these bad boys from death suite make a statement. our staff pick are the ridiculously comfortably bassike jersey pant. come in store and we will style them up for you xx
pics: songofstyle, amberlijahn, modernlegacy, theyallhateus, and pinterest